The decision to include a pool into your lifestyle is one of the most important buying decisions of your life. Not only does it increase the beauty of your home, but it also provides a great form of all around exercise, relaxation and an excellent setting for entertaining family and friends. Choosing the right swimming pool company is just as essential.
At Cody Pools we know how significant the pool buying decision is to you. As the #1 pool builder in the nation for the 6th year in a row, we've built our reputation as a premier pool builder & contractor with experience, uncompromising quality, award winning designs and leadership. Established in 1994, we're a proven swimming pool builder who has built over 10,000 residential and commercial swimming pools in Texas including Austin, San Antonio, Houston, Georgetown, Killeen/Temple, Waco and surrounding areas. We specialize in custom built pools and not the "cookie cutter" ones that large national franchise based pool companies are only interested in selling. We also set ourselves apart from local and small pool builders with our solid financial strength and industry leading warranty.
Why Choose Cody Pools
We are a financially solid company and listed with Dunn & Bradstreet. Some pool companies operate from pool to pool and occasionally, some have even operated under several company names as to hide any negative information with the BBB. They may be able to build your pool, but will they be there to stand behind their work?
We're an award winning pool company in both design and construction quality as well as business conduct. This is no small feat and we are proud of this recognition as it definitely reflects our commitment to quality, customer satisfaction and our respected standing in the industry.
Our Design & Construction staff have a combined 150 years in both commercial and residential pool construction. We have 18 APSP Certified Building Professionals on our staff including Designers and Superintendents.
Financing Options. We can direct you to a variety of lending solutions that can help make the pool of your dreams a reality.
We specialize in custom pools, not cookie-cutter designs, that are affordable and beautiful and often feature waterfalls, custom stone materials, unique finishes and even summer kitchens.
We are proud members of the Association of Pool & Spa Professionals, the Better Business Bureau and the Greater Homebuilders Association of Austin, San Antonio and Houston.
Building a Pool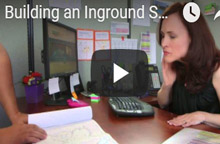 Watch this informative video that explains the consultation, design, construction and service steps we take to build you the pool of your dreams.
View Our Pool Designs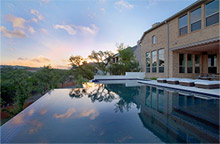 Inspiration for your backyard oasis starts here! View our Pool Design Gallery of Freeform, Geometric, Negative Edge designs and more.
Let's Design & Build Your Dream Pool
You're dreaming it and we're ready to make it happen.
Schedule a no obligation in home consultation with one of our Design Pros. We'll provide you with 3-D realistic design and a detailed estimate on your dream pool.