Your Cody Pools warranty covers every aspect of your Cody Pool – from decking to pool equipment and controls. We use only professionally licensed and insured professionals when building your Cody Pool. Through our strong partnership with our equipment dealers we're able to offer the best protection for your pool. Our warranty covers the Gunite concrete shell for the lifetime of the pool. The pool's interior finish is covered for 15 years and other components are covered from 2 to 3 years. For more details on our industry leading warranty, please consult with your Cody Pools Designer.
Cody Pools Service & Warranty Department
Phone: (512) 930-0505
Email: warranty@codypools.com
Get Our Free Planning Guide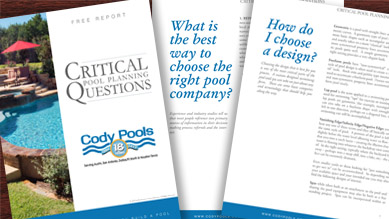 Receive a FREE copy of our pool planning guide that will answer your critical questions. You'll find valuable information regarding choosing the right pool company, design options and more!
View Our Pool Designs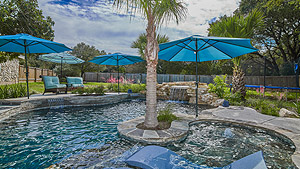 Inspiration for your backyard oasis starts here! View our Pool Design Gallery of Freeform, Geometric, Negative Edge designs plus water and lighting features and more.
We invite you to explore our interactive galleries, when you're ready contact us today to talk with one of our experienced pool designers for a free design consultation.